Documentary History of American Water-works
Williamstown, Massachusetts

Williamstown was first settled in 1749.
The Proprietors of the water works in the town street in Williamstown were chartered on February 26, 1796 by John Lowell, Increase Summer, Thomas Williams, John Read, and Thomas Williams Jr. This company built a system that was operating by September, 1797 when a house for sale included "two shares in the aqueduct which brings water into the town street":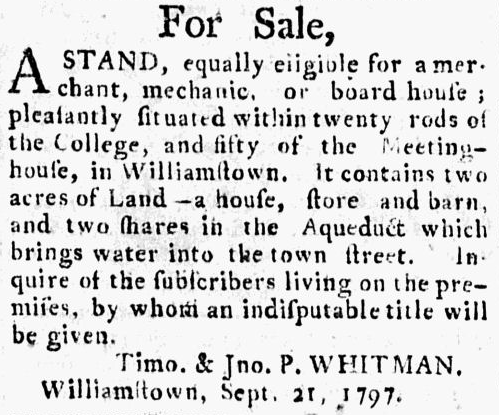 Stockbridge (Mass) Western Star

, October 9, 1797
No further information on this system has been found.
The Williamstown Water Company was chartered on March 27, 1847 by Daniel N. Dewey, Seymour Whitman, and Edward Lazell and modified on May 9, 1848. No evidence has been found that this company built a water system.
The Williams Aqueduct Company was organized in 1860 and built a water system
Another Williamstown Water Company was chartered in 1885 by Albert C. Houghton, James M. Waterman, Calvin B. Cook, William B. Clark, and Sidney S. Edwards. A law passed in 1889 allowed this company to buy the Williams Aqueduct Company. This charter was also modified in 1909.
The Community Water Service of New York bought the Williamstown Water Company in 1928
The Town of Williamstown bought the system on April 1, 1942 and currently provides water to the community.
References
1796 An act to incorporate Lemuel Stewart & others for the purpose of conveying water by pipes into the town street near the college in Williamstown, by the name of the Proprietors of the Water Works in the Town Street in Williamstown. February 26, 1796.
© 2015 Morris A. Pierce